The Best Styles for a Modern Kitchen Island
One of the most sought-after features for homeowners today is a large, multifunctional kitchen island. These standalone pieces can give you the ultimate storage, food preparation, cooking, seating, and dining options to make your space both beautiful and functional. They can serve as a convenient and flexible location for office work. Read on for our four favorite styles, and to learn more about what kitchen island would work best for you, visit us online or at our newly updated design center.  
1. A Sleek Fixed Countertop Island
Chances are, when you think of a kitchen island, this style comes to mind first. Fixed countertop islands, often with seating underneath the cantilevered top, allows you to achieve outstanding functionality within a limited space. They also provide a visual centering point for larger, open spaces. These islands often feature wrap-around cabinetry and drawers or waterfall countertop sides. They also offer a sink or cooktop depending on your needs. They are perfect for most modern kitchens of any size.
2. A Combination Workspace/ Food Preparation Kitchen Island
Our proprietary K-table, created by MAISTRI, imagines the kitchen island as a cornerstone of day-to-day life. With this high-tech kitchen island, you can cook and prepare food but also utilize your island as a real table for dining, office work, or social gatherings. It features waterfall countertop sides and is open beneath, with floating drawers to resemble a 'classic' dining table with island seating. These kitchen islands are both functional and elegant and ideal for large or small spaces.
3. A Multifunctional Dining Island
A sleek and functional newer design that instantly updates your kitchen is the kitchen dining island. With a dining table that is usually positioned at standard dining chair height, this island provides you with a large, welcoming space for dining, work, or gathering. Meanwhile, you still can enjoy all the features that make kitchen islands so useful—extra counter space, storage, and preparation or cooking areas.
4. A High-Tech Sliding Countertop Island with Flexible Kitchen Island Seating
One of the most exciting developments in modern kitchen islands is the sliding countertop island. It is a must-have for culinary enthusiasts who need flexible options for cooking, entertaining, and seating. Featured in one of NOLI's most recent new kitchens, the sliding countertop extends to create a dining space over seating, and can hide a flush-mounted cooktop or sink that appear on demand. This high-tech kitchen island is ready to help you make your kitchen visions a reality!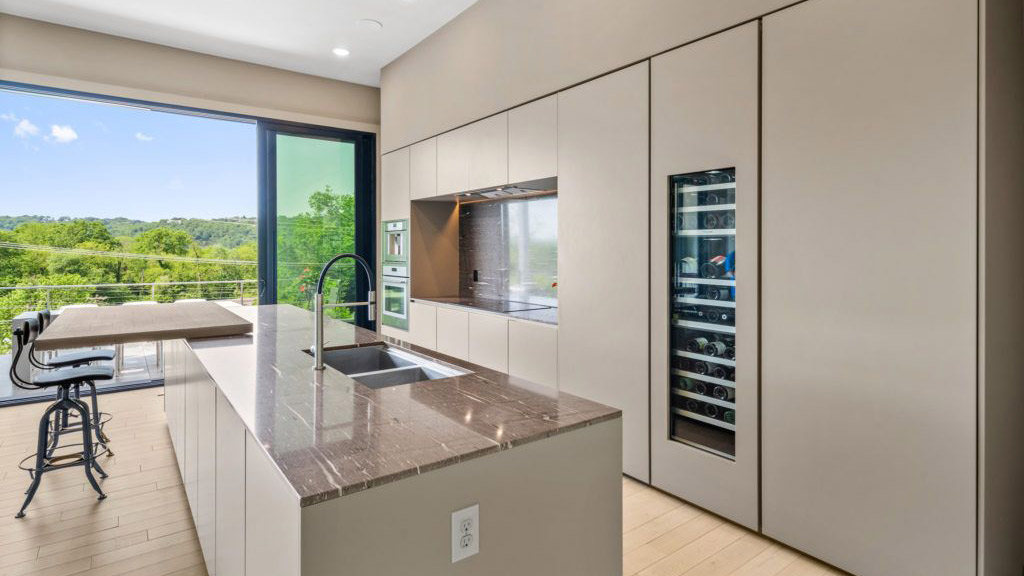 Choosing the right kitchen island is a critical piece of making your modern kitchen design a success. Contact us today to discuss what's possible for your project, and learn how we can help.
Looking for more ideas?